Looking for a delicious recipe to prepare on the occasion of Akshaya Tritiya?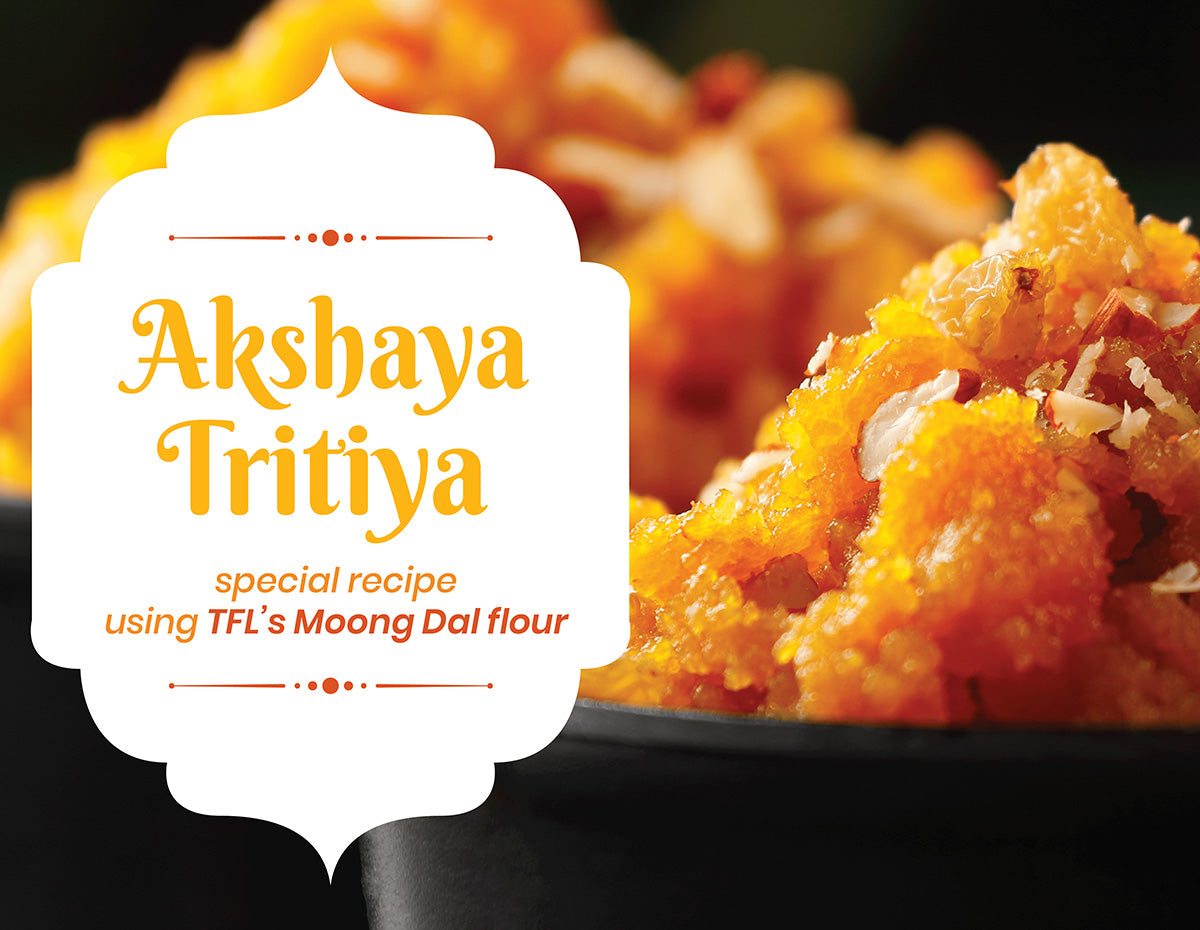 Make delectable moong dal halwa using TFL's Moong Dal flour on the auspicious occasion of Akshaya Tritiya!
Akshaya Tritiya is a widely celebrated festival by Hindus & Jain in many regions of India. According to the Hindu calendar, it falls on the third tithi of Shukla Paksha of the Vaishakh month. The word 'Akshaya Tritiya' signifies "the third day of unending prosperity".Many people believed to buy gold on Akshaya Tritiya to bring more wealth & prosperity in the coming future.
In India, any festival would be incomplete without the preparation of special sweets or desserts! One of the most important rituals is worshipping lord Vishnu and Goddess Lakshmi and offering Prashad(bhog) on this particular day! However, Moong Dal halwa is a rich & delicious option to offer as a Prashad(bhog) which is made with soaked moong dal, ghee, sugar, and milk. Making this mouth-watering recipe takes a lot of time, which is why we are here with a twist on the original Moong dal halwa recipe!
This recipe skips the entire process of soaking & grinding Moong dal as we are using Moong dal flour in the process.
Here is the special recipe:
Ingredients:
TFL Moong Dal flour: 1 Cup
Sugar: 1 Cup
Ghee: 8-10 tbsp
Full-fat milk: 4 Cup
Cardamom: 1 tsp
Instructions:
-Heat 4-5 tbsp of ghee in a non-stick pan and add TFL's moong dal flour to it. Keep stirring the mixture for about 7-8 minutes. The nice aroma of roasted moong dal flour will start coming from the mixture. (Mixture should look like a golden granular in texture)
-Boil milk on another flame and gradually add it to the roasted moong dal flour mixture. Stir it really well to avoid lump formation. Cook the mixture for 3-4 minutes.
-Add sugar & cardamom powder and mix it nicely. Add the remaining ghee to the mixture. Keep stirring till the ghee starts separating from the sides of the pan.
-Once the ghee starts leaving the sides of the pan, switch off the flame and garnish it with chopped nuts of your choice. Serve hot!
Tips:
-Don't forget to use a non-stick pan only.
-Keep stirring the mixture on low to medium heat during preparation.
-Use TFL's Moong Dal Flour because it has a perfect coarse texture.
TFL's Moong dal flour(coarse) is perfect for making this amazing halwa because it has just the right coarse texture! Also, it is a good source of dietary fiber and protein!
So, try this new Moong Dal Halwa recipe & relish it with your family!
May this festival bring you health, wealth, and prosperity!
Happy Akshaya Tritiya from the TFL family!