Celebrate Ganesh Chaturthi with Taste for Life's Authentic and Convenient Festive Range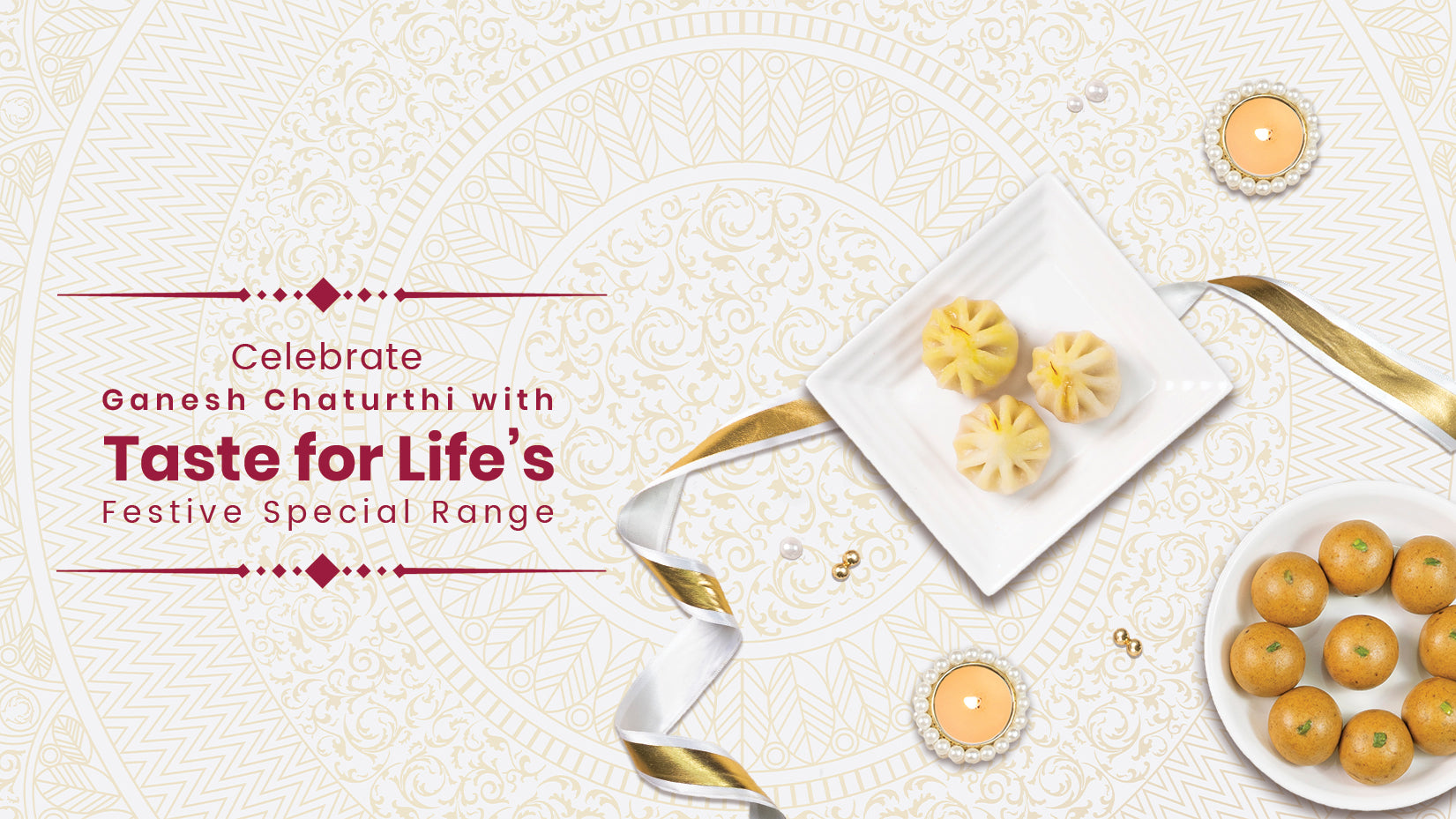 Our much loved Ganesh Chaturthi Festival is around the corner and we are all set to initiate the arrangements to joyfully greet our favorite Bappa.
However, the best part of this festive celebration is making delectable offerings to lord Ganesha. In many regions of Maharashtra, Fried Modaks, Ukadiche Modak, and Besan Laddus are the most popular Prasad or Naivedya offered during Ganesh Chaturthi Celebrations. 
Ukadiche Modak: A Traditional Recipe
Ukadiche Modak is a traditional recipe made with a combination of an outer covering of rice flour and a sweet filling of grated coconut & jaggery. Crafting this authentic delicacy is undoubtedly a task of an expert but it is equally important to choose the finest quality of Rice Flour, which must possess the right level of stickiness. This stickiness helps to bind delicate layers of Modak properly.
Besan Laddu: Sweet Delights
Besan Laddu is equally cherished and made using besan/gram flour with a combination of dry fruits, cardamom, sugar, and pure ghee. However, it is important to properly roast the ingredients to get the desired taste and texture.
Simplify your Festive Cooking with Taste for Life:
To simplify your festive cooking, Taste for Life introduces its exclusive Festive Special Range.
It is a collection of best-quality products that merges convenience with authentic taste. 
Kesaryukt Modak Atta is crafted with the best quality fragrant rice which gives an authentic taste and enticing aroma to the Steamed Modaks. 
This unique flour is enriched with Real Kesar, making it an ideal choice for festive indulgence.
The Modak-Making process is much easier because of its distinctive stickiness, turning a skillful task into an enjoyable experience.
Sugandhi Modak Atta is also crafted with fragrant rice and delivers the required level of stickiness.
It not only enhances the taste and aroma of the steamed Modaks but can also be used in various traditional recipes including Patolya and Kozukattai.
It's definitely a perfect choice for adding a signature touch of fragrance to every dish.
This Besan Laddu Mix stands out for its authentic taste, a must-try for everyone.
With Taste for Life's Besan Laddu Mix, the preparation of delicious Laddu becomes easy and requires only 5 minutes.
It is a perfect blend of besan roasted in pure ghee, sugar, almonds, pistachios, and cardamom. You can prepare homemade Besan Laddus by just adding melted ghee to this Besan Laddu Mix.
With this amazing festive range, you can create the melt-in-the-mouth Ukadiche Modaks and delectable Besan Laddus to celebrate traditions with a touch of authenticity and convenience!